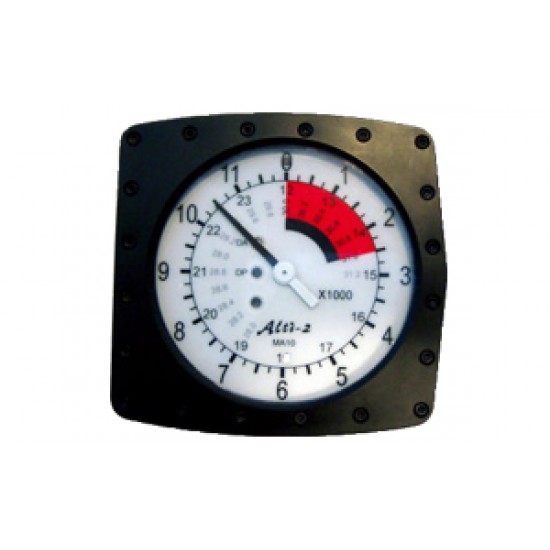 Contact us

Alti-2 MA-10UD Altimeter
Stock:

Contact us

Product Code:

MA-10UD

PN:

FP-02-093/096-120/121

Alti-2
The MA-10UD from Alti-2 Europe, is the toughest Altimaster yet. Built for the demanding applications of the military market, this highly accurate altimeter is designed for jumps up to 40,000ft.
The MA10-UD is designed for high altitude (40,000 FEET MSL) military operations. On the compressed scale model, the single revolution eliminates altitude confusion, while maintaining the traditional Altimaster dial face below 8000ft.
Since the scale is controlled by the embedded software, the user can specify the scale design when placing an order, i.e. the MA-10UD can be supplied with a dial face that is identical to the MA2-30.
For training purposes, the instrument has a simple zero function. For operational use, the DZ altitude and barometric pressure may be programmed in-flight; the MA-10UD will display the correct AGL altitude above the DZ. Each unit can be programmed from the device itself, or with the MA-10 UD Transmitter (sold separately).
The unit is based on a stepper motor design and is extremely robust; dropping the instrument will not damage the mechanism.
The embedded software is updateable.
Case
Robust stepper motor mechanism
0-40,000ft dual scale operation
Use in simple "zero" mode for training, or program DZ altitude and DZ barometric pressure for operational use. Can be programmed in-flight
Easily accessible battery compartment
100 hrs+ battery life (L91 AA Lithium)
Electroluminescent backlight
Rugged aluminium frame
Waterproof down to 6 feet of water (note: for the batteries to be changed quickly and without tools, the battery compartment is not waterproof)
One piece wrist strap, no tools required to change
No knobs or protrusions
-40+80 deg C operation (L91 AA Lithium Battery)
Dimensions are smaller than the original MA2-30 military Altimaster design